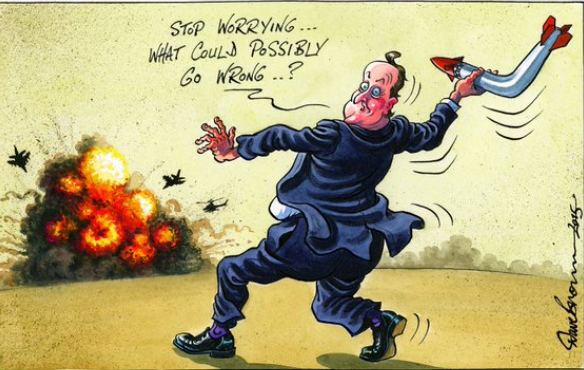 The decision of the UK government yesterday evening (December 2) to extend its war on terror into Syria with no coordinated strategy in place to defeat ISIS, will almost certainly be as catastrophic as Tony Blair's decision in 2003 to commit British troops to Iraq. The notion that MPs could have genuinely been persuaded by Cameron's line of reasoning for another illegal war is as inconceivable as MPs during Blair's reign being unaware of either Scott Ritter's findings stating that by 1998 Saddam had effectively been disarmed, or the subsequent public pronouncements of Colin Powell and Condaleeza Rice that were made on the back of them that preceded the infamous 45 minute claim.

The Prime Minister's justification for sending more of our troops into harms way – which, significantly, was rejected by the Foreign Affairs Committee – was predicated on the dubious and frankly laughable claim of the existence of 70,000 "moderate rebels". On Sunday's (November 29) edition of the BBCs Marr programme, Defence Secretary, Michael Fallon, when pressed by presenter Andrew Marr to clarify who these rebels were, replied that were comprised solely of anti-Assad, Free Syrian Army forces.

However, early on December 1, Lt Gen Gordon Messenger, the deputy chief of the defence staff, appeared to have contradicted Fallon by refusing to confirm whether any of the alleged 70,000 fighters were members of more extremist groups such as the Islamic Front and Ahrar al-Sham. The fact that no clarification by Cameron was given to MPs regarding the source for the 70,000 figure or its composition, is not a sufficient enough basis for MPs to be able to make an informed decision about such an important life and death issue.
Source: Brimstone & bloodied hands | Road To Somewhere Else
Join the Vox Political Facebook page.
If you have appreciated this article, don't forget to share it using the buttons at the bottom of this page. Politics is about everybody – so let's try to get everybody involved!
Vox Political needs your help!
If you want to support this site
(but don't want to give your money to advertisers)
you can make a one-off donation here:
Buy Vox Political books so we can continue
fighting for the facts.
Health Warning: Government! is now available
in either print or eBook format here:
The first collection, Strong Words and Hard Times,
is still available in either print or eBook format here: